Posté par Tracy Rosen - 16/04/11 à 05:04:14 pm
The Benefits of Multilingualism
By Micha? B. Paradowski
Institute of Applied Linguistics,
University of Warsaw
This article has some excellent points regarding the benefits of knowing more than one language.
I found it here, at MultilingualLiving.com
Posté par Tracy Rosen - 05/04/11 à 07:04:39 pm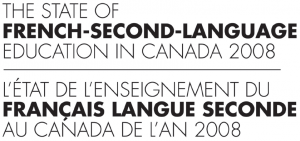 from the report… page 1:
AGENDA FOR CHANGE / VERS UN CHANGEMENT
Executive Director James Shea presents key recommendations that identify policies and actions needed to provide support for and access to quality French-second-language programs in anglophone schools across Canada.
James Shea, directeur général de CPF, présente d'importantes recommandations faisant état des politiques et des mesures nécessaires pour assurer le soutien et l'accessibilité de programmes de français langue seconde de qualité dans les écoles de langue anglaise partout au Canada.
Propulsé par WordPress et le thème GimpStyle crée par Horacio Bella et modifié par Tracy Rosen. Traduction (niss.fr).
Flux RSS des Articles et des commentaires. Valide XHTML et CSS.